How I Found Healing & Guidance From the Angels
Back in the early 2000's I serendipitously won an Usui Reiki level I course with the International House of Reiki. I went on to complete level II and became quite dedicated to the practice, attending the school's Reiki share night almost every week, so I got to know the regulars who attended. One night we had a visitor, a lady from New Zealand who was a Reiki student and dropped in just for this one occasion.
That day I had been working at a magazine for cool "hip" people. My career in magazines saw me work as a writer, sub-editor and editor at many different titles and workplaces and I was very experienced and adaptable. But on this day I was full of self-doubt. The editor I was working for was not giving me much feedback, I started doubting my work and it triggered a reinforcement of the limiting belief "I'm not good enough" (just about everyone has this belief). I left the office feeling absolutely distraught.
So at the share class, when it was my turn to receive Reiki, about four of my classmates and the New Zealander began directing energy to me. It worked wonders – if only to quiet my out-of-control mind (since then I've learned Mindfulness-Based Cognitive Therapy, which has changed everything!). Afterwards, the visitor pulled me aside and said that while she was giving me Reiki, Archangel Raphael was present. She told me to call on him when I went to bed that night.
I hadn't much knowledge of the angels at this point – I was raised without religion and my spiritual path had begun with yoga. Nevertheless, I took her advice and called on Archangel Raphael. I was half asleep when I became aware of energy moving around my body and a vision in my third eye of emerald green fireworks. Raphael had come! Through this wonderful angel experience I had a newfound interest and learned as much as I could through Doreen Virtue's many books, oracle decks and meditations.
About 5 years later I was the editor of Australian Yoga Journal and a psychic medium who worked with angels offered me a session. She introduced me to her angel healing courses and this sparked a remembering of my soul's inherent abilities to channel the energy of angels. In the first workshop I did with her, we were lying down with our eyes closed and she called on any angels in the highest light to come visit us. Moments later there was a flashlight straight over my third eye – I opened my eyes to see who was there – no-one! I closed my eyes and the light was there again! The teacher told us she saw a very big angel in the centre of our circle and she was absolutely beautiful.
I began offering energy healing sessions but didn't advertise them as angel healings. My clients would tell me of the angel experiences they had while I was working on them. One woman saw Archangel Gabriel in her third eye, others would describe the colours of the energy, or they would hear or just know the name of the angel present. The angels who turned up at each healing was not my choice, they just appeared for the need that the client had – whoever was the best fit for the job.
I was amazed that all these "regular" people coming to me for sessions were open to accepting angels. Some had religious backgrounds and were already primed on the archangels, while many others were not; it did not matter, as the energy spoke for itself. And I learned that I did not need to keep it quiet that I was channelling angel energy, and that if anything, part of my work here is to help make this practice "normal".
Energy healing with angels is very different to my experience of Reiki. For this style of energy work, I simply open myself to the angels and they direct my hands, show me which parts of the body to work on, give me psychic insights for the client and deliver incredibly strong energy. Clients can be quite "shaken" for some time after a session – it may take weeks to integrate the changes.
Not long after I began my angel healing work, I attended the Angel Intuitive Course, which was presented by Doreen Virtue's son, Charles Virtue. It was here that my abilities as a psychic reader became fully present. I was giving angel guidance readings and getting confirmation on accuracy. Even years later one of the other students contacted me to tell me that what I had seen for her came true.
I am so thankful to all of the teachers who have crossed my path, who helped me to remember my authentic self and steered me further on my Divine mission. In the past few months, my guides urged me to begin teaching the knowledge that I have acquired. I started the online Merkaba Molly Spiritual Circle to offer relaxation techniques, meditation, energy healing and angel therapy. The ultimate aim is intuitive development for each person's own benefit – to follow their inner guidance and connect to their guides and angels.
In a recent class I was guided to ask my students to call on Archangel Raphael during the Yoga Nidra deep relaxation session I was giving them. One student said that before I had even said "Archangel Raphael" a bolt of energy had come down to her heart and spread around her body and it was extremely powerful. Only the week before she had come to the realisation that she was not allowing herself to receive in her life; and here she had received something very special – her first known angel experience!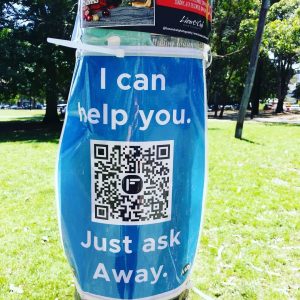 The key to receiving help from angels is that they need your permission to help, so simply call on them and ask for help. The other day I was sitting in a park eating my lunch and thinking about writing this blog. As I was making a mental note to include this point about asking for help, I looked up from my lunch and right in front of me on a pole was a poster: "I can help you. Just ask away." I cracked up… my guides had nudged me to look at it at just the right time – signs and synchronicities like this happen all the time.
If I'm ever having a rough time I ask ALL the archangels to come to me. If I need help with something specific, I call on the angel who specialises in that. Archangel Michael is my go-to for everything and he's with me a lot, often appearing without me calling for him – I guess we have an ongoing agreement. Archangel Gabriel helps me write stories and stay motivated about my creative projects. Archangel Raphael is a healer and I call on him for healing energy for my body. If you're interested in working with the angels, I suggest you read about them and get to know their characteristics, then just ask them for help!
YOU MIGHT ALSO LIKE THESE